We will know about FASTag, what is this FASTag? And how does it work?, where can I buy it and where can I use it and how to recharge it, then let us know.
The "Electronic Toll Collection" (ETC) system has been started in India by the "National Highway Authority of India" to solve the problems caused by the toll collection system at the toll plazas.
The Electronic Toll Collection System or FASTag scheme was first introduced in India in the year 2014. Which is gradually being implemented over toll plazas across the country. With the help of FASTag system, you will be able to get rid of the problems faced while paying toll tax at the toll plaza.
With the help of FASTag, you will be able to pay your toll plaza tax without stopping at the toll plaza, you just have to put FASTag on your vehicle. You can buy this tag from any official tag issuer like Paytm, all nationalized banks etc.
Fastags will soon be made available at petrol pumps across the country to speed up the collection of tolls electronically on road. Later these can also be used to buy petrol and pay parking charges.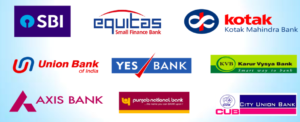 Union Road Transport and Highways Minister Nitin Gadkari said, from now on FASTag will be available at petrol pumps and we plan to make it available across the country. Apart from this, there is also a plan that customers can use this card to buy petrol and pay parking facilities charges.
What is FasTag?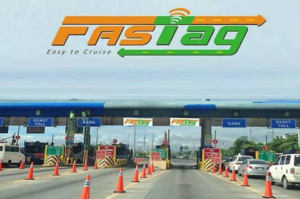 A FASTag is a device that is mounted on the front glass of the vehicle. And it has Radio Frequency Identification (RFID).
As soon as your vehicle comes near the toll plaza, then the sensor installed on the toll plaza comes in contact with the FASTag installed in the wind screen of your vehicle, deducts the fee from your FASTag account at that toll plaza and you will be without Stay there and pay your plaza tax. This vehicle-mounted tag will start working as soon as your prepaid account is activated.
At the same time, when the amount of your FASTag account is exhausted, then you will have to recharge it again. The validity of FASTag will be 5 years i.e. after 5 years you will have to get a new FASTag installed on your vehicle.
Benefits of FasTag
The Ministry of Road and Transport has started the Fastag system in many toll plazas of the country to solve the problem of long lines and open money due to paying toll tax in toll plazas. With the help of FASTag, apart from saving your time, your petrol or diesel will also be saved.
SMS Facilities
Whenever you cross a toll plaza in a vehicle fitted with FasTag, you will receive an SMS as soon as your fee is deducted from your Fastag account. You will be informed about the amount deducted from Fastag Account through SMS.
Bank for Recharge Fastag or Electronic Toll Collection (ETC) Account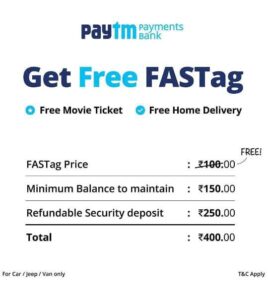 You can recharge your FASTag account through Credit Card, Debit Card, RTGS and Net Banking. Minimum Rs.100 in FASTag account. And maximum recharge up to Rs 100000 can be done.
You can open your FASTag sticker and FASTag account by going to the toll plaza and agency inside any Point of Sale (POS). By going to the website of the National Highways Authority of India, you can find the location of the point of sale near you.
The bank has launched Paytm FASTag to make it easier to pay toll charges on all highways across the country.
FASTag Full Form
National Electronic Toll Collection (NETC) FASTag.
Talking to running car companies
At present, Paytm Payments Bank is in talks with car companies to make Paytm FasTag available for new vehicle buyers. For this, talks are also going on with car dealers. This includes other car companies including Maruti, Hyundai, Tata, Mercedes, Renault.
Online Purchase
According to Paytm, for old vehicles, you can buy FASTag online on the Paytm app. Customers using Paytm FASTag will get a cashback of 7.5% on every toll transaction. The bank expects to cross one million vehicles using Paytm FASTag by the end of this financial year.
Documents
At the time of opening the account, you will also need to submit the following documents along with a given form, which is as follows-
Vehicle Registration Certificate (RC)
Vehicle owner's passport size photograph
KYC documents and address proof of the vehicle owner
By the way, let us tell you that the Ministry of Road Transport and Highways has asked all the vehicle manufacturers, company and vehicle dealers to ensure that the vehicles to be purchased must be fitted with FASTag by its owner, that is why it is now necessary that you have FASTag on your vehicle. Will have to put