Chopta Trek is a beautiful valley, full of Lush Green meadows and surrounded by Oak and Pine trees. This is a very pocket-friendly trek and has a lot more to offer in the price!
This beautiful Trek starts from Haridwar, or any other place as per your comfort. The camp will be set up in Sari, then will first take to Deoria Tal Lake. Deorital Lake reflects the spectacular landscape of the Great Himalayas. Then, the trek will then proceed to Tungnath via Chopta. Then, the Chopta trek reaches Chandrashila peak before going back.
Chandrashila Peak is located 13,000 feet above the sea level. This peak provides a scenic view of Peaks like Nandadevi, Trisul, Kedar Peak, Bandarpoonch and Chaukhamba. On the way, you'll pass from Rohini Bugyal, which is one of the most beautiful meadows of Chopta.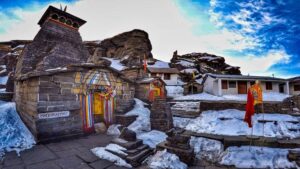 Sleeping in tents, inside the sleeping bags, or sitting near a bonfire in the starry night in the valley, is the most beautiful memory of trekkers in Chopta Trek. You'll have to meet us at the Haridwar railway station and begin this mesmerising adventure with us.
The best time to go for this trek is the winter season. If we talk about months to go here, it is from October to February. It can even stretch to Early March. This time let the trekkers explore the vast glittery expanse of snow, spread throughout the Himalayas. This will be for sure an experience of a lifetime.
Tungnath is a Shiva temple present on the highest altitude in the world. It is situated at an elevation of 12,073feet above the sea level. It is located in Rudraprayag district in Uttarakhand. Tungnath trek is considered as the easiest trek in Himalayas.
Every year many trekkers go on this trek for a nice snow experience and breathtaking views. There are many small villages located in the trails, like Rudraprayag, Devprayag, and Sari. Deoria Tal Lake is the best spot on this trek. The Lake seems to be very inviting and beautiful but indeed is freezing cold. Trekkers often like to explore the surroundings of the Lake. There are massive Maple, Oak and Pine trees surrounding the Lake.
Tungnath trek consists of many postcard-perfect waterfalls, greenery, forest trails and amazing snow covered mountains of Garhwal Himalayas. The Basecamp for Tungnath Trek is Chalkot, a Lush Green meadow in Chopta valley. Chopta Valley is also known as mini Switzerland of Uttarakhand.
Tungnath is famous for Shiva Temple and it further takes to the Chandrashila Peak. It is located at 4000 metres above sea level.
Best time to go for Chopta Trek
The best time to go for this beautiful Trek starts from November and goes till April. If you want to see the best views of the Himalayas then, September to November is the best time for this trek. The temperature goes down to negatives in the night and the area becomes freezing cold and snowy.
Chopta Valley is located at an altitude of 8792 feet and is surrounded by forests. The Forests consist of trees like Oak, Deodar and Rhododendron. This also consists of beautiful flowers blooming around the trees.
The scenic views of the Himalayas are very beautiful that can become the best moments of this trek. Chandrashila mountain trek located in Uttarakhand is a moderate trek that can be done by everyone. Rare yet mesmerising sights of ancient culture of Himalayas can be seen throughout the journey.
Chopta
Chopta is located in Uttarakhand at an elevation of 8790 feet above the sea level. It is very famous for its beautiful meadows in summer and snow covered peaks in winter. It is a small village in the Himalayas, that provides spectacular views of Peaks like Trishul, Nanda Devi, and Chaukhamba.
Tungnath
Tungnath, is also called as Lord of the Peaks. It is located at an altitude of 12,073 feet above sea level. It is located in Uttarakhand in Rudraprayag district.
Chandrashila
Chandrashila is famous as it is one of the few Peaks that is open even in winter months. It is also famous for its 360 degree view of the Himalayas, which mainly attracts trekkers here.
Dont Miss : ESC Full Form
Deoria Tal
Deoria Tal is Lake located in Uttarakhand. It is situated at an altitude of 7,999 feet above the sea level. The area surrounding the lake is full of Lush Green forests and is fully wooded. Beautiful white mountains in the background. Deoria Tal is popular for its 300 degree view.
It is said that Lord Rama meditated here after defeating demon King Ravana. The other myth says that Moon God Chandra spent some time in penance. This place is famous for its 360 degree view of the Himalayas.